LET US SHOW YOU THE ROPES.
FIRST TIME VISITORS
All climbers must sign a waiver. Save time at check-in and fill yours out now!
10,000 square feet of climbing surface
Risen Rock Climbing Gym has innovative features of the climbing world including approx. 5,000 sq ft of rope walls with heights up to 35 feet, a competition speed climbing wall, kids fun climbing walls, and approx. 4,000 sq ft of bouldering walls, including a center boulder with a top out feature.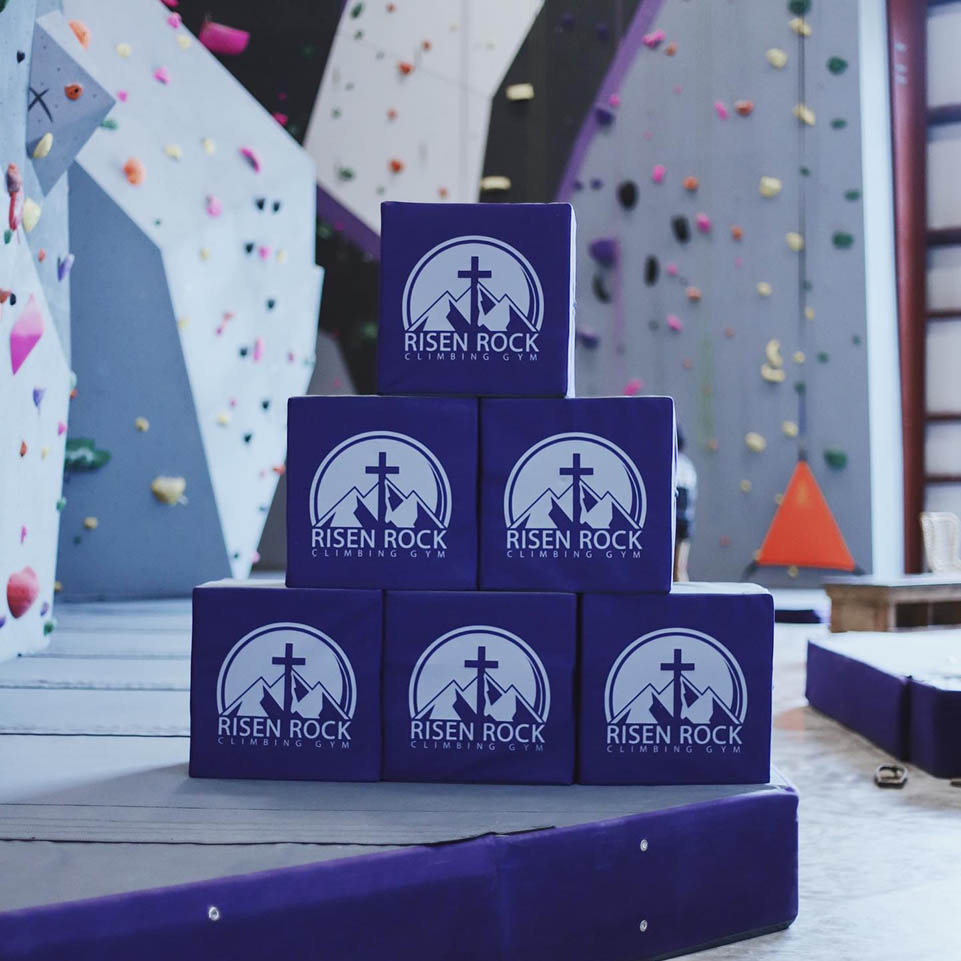 CHRIST. CLIMBING. COMMUNITY
RISEN ROCK IS EXCITED TO BRING FUN AND FAITH TO OUR COMMUNITY - WE WELCOME EVERYONE TO JOIN US.
What to Expect on your First Visit at Risen Rock.
Rise up, Take Courage and DO IT!

FILL OUT WAIVER
Each visitor to Risen Rock, whether climbing or not, will be required to fill out a Visitor Agreement. To save time, fill out this form online as it will be delivered to us electronically. For those under the age of 18 it must be filled out by a parent or legal guardian appointed by the courts. No exceptions.

PURCHASE PASS / EQUIPMENT
Come try Risen Rock and purchase a day pass and any necessary rental equipment. Our front desk staff will explain the next steps when you visit us.

ATTEND ORIENTATION
Risen Rock requires orientations for those wishing to climb or if you are assisting climbers under the age of 13.

CLIMB
Climb until you can't take it anymore! Check out our additional class offerings and membership options.

what people say
Risen rock is a very clean and safe place to climb! Whether or not you're experienced it is a great place to get rid of some energy, workout, or just play around at. The only thing I would have to say that's not up to par is that the routes are labeled more difficult then what they really are. For example, I climbed a bouldering problem that was labeled V5 that should have been a V2+/V3.
Great place to take your family for a fun night. Or Saturday. The staff is so helpful we attended the opening night and had fun! First time to visit a rock climbing place. Even go to meet the sweet owners!!
This place is so much fun! My kids loved it and climbed for 2 1/2 solid hours without stopping. The facilities are very clean, and the staff and owners are very friendly and helpful. It's a little more expensive than some of the other indoor activities around the area, but it is definitely worth the price. I highly recommend it!