LET US SHOW YOU THE ROPES.
FIRST TIME VISITORS
All climbers must sign a waiver. Save time at check-in and fill yours out now!
What to Expect on your First Visit at Risen Rock.
Rise up, Take Courage and DO IT!
[TS_VCSC_Amaran_Popup position="top right" sticky="true" close="false" title="New to Climbing?" title_color="#ffffff" title_background="#8224e3″ button_color="#8224e3″ icon_color="#8224e3″]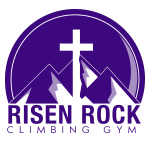 We are here to help.  Please be sure to message us if you would like to come in for a tour, orientation or have questions about getting started.
[wpforms id="1412″][/TS_VCSC_Amaran_Popup]
TAKE A LOOK AROUND RISEN ROCK
DON'T JUST TAKE OUR WORD FOR IT  – TAKE A PEAK FOR YOURSELF.
[TS_VCSC_GoogleMapsPlus_Single googlemap_style="style_blue_essence" marker_position="address" marker_address="1060 Chinaberry Dr, Bossier City, LA 71111″ marker_style="image" marker_image="1183″ marker_animation="true"][/TS_VCSC_GoogleMapsPlus_Single]